Wall table
My wife and I live in a small place. It's an old house that was originally part of another old property but split into a separate lot, and then this house was split in half into a duplex. Our half is a bit over 500 square feet and it's perfect for us. It includes a frontroom, kitchen, and then a bedroom in the back, with a connected bathroom and a narrow closet. There's also a hatch leading up into the attic so that we can stow our small Christmas tree box and go attic-spelunking when we're bored. There's a side-yard just big enough for a small place to burn wood (for nice smells) and host a couple friends for outdoor hangouts. This place is great for us right now.
As long as I can remember, my dad has spent Saturdays taking care of house tasks. Cleaning, fixing, shopping at Home Depot, planting things (which creates many more tasks…), applying "elbow grease"… dad stuff. I'm not a dad yet, but I've come to appreciate doing this sort of Saturday dad-labor. Shopping at Home Depot is fun now, and shopping in socks and Crocs has become acceptable during COVID, so I feel at home among all the other DIYers. Do I need a magnetic tape measure? First of all, yes. Second of all, wrong question. Is it fun to buy a magnetic tape measure? Definitely.
A combination of factors has allowed me to exercise my newfound affinity for dad-work. We live in (half of) an old house, so there are broken things. We live in a small place, so the broken things are rather manageable. The landlord is very relaxed about everything and seems to recognize the many skills I've acquired from years of fleeing my dad's Saturday son-tasks. I take my landlord's trust seriously, which is why I make sure to buy the coolest things at Home Depot. Some things I've done around the house that I'm proud of are:
Removed the annoying plants
Fixed (by removing) the old plastic waterfall installation (which I accidentally broke while removing annoying plants)
Sprayed weed poison, to maintain the beautiful dirt we have in our flower bed
Installed hooks to store my surfboard on the wall of our bedroom
Put a metal ring around our showerhead pipe to keep our shower organizer from sliding down
Bought a small fire pit and maintained it with Rust-oleum
Transformed our very-narrow closet into a usable closet for two, using these cool pull-out hanger bars ↗
Put up outdoor Christmas lights
Fixed the blinds
I love showing my wife what I've done, and she makes sure to tell me that I did a good job. That feels great. Here are some pictures so that you can appreciate it too.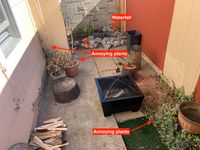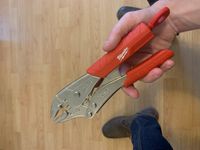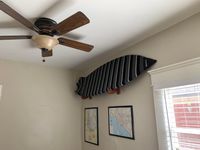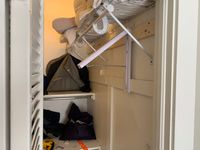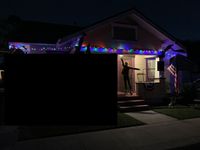 Yet, one job I recently did overshadows all the rest. I installed a wall table.
Since COVID started and I haven't been able to use the cool desks and monitors at the office, I've had to make do at home. Originally, I had a plastic party table with my laptop set on boxes to keep my neck straight. After awhile, we moved from our old apartment to this place we're living now and I tried working at our dining table. Now, our dining table was not very comfortable to work at, not to mention a little too big for our place. It fit fine in our old apartment, but a table that can seat 6 people feels giant in a 500-square-foot-half-of-a-house. So, I picked up a cheap, height-adjustable desk to go with the wonderful chair that my wife gave me for my birthday, and my wife and I began looking for a smaller dining table.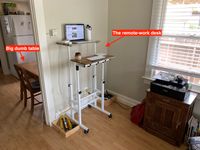 As it turns out, searching "small table" on OfferUp and Craigslist returns lots of very short tables… not small tables. So, we changed our query to "small dining table" and kept searching.
After months, we still hadn't found a small smart replacement for our big dumb table. Then one day we came across an OfferUp listing that changed our whole perspective. The listing was for a fold-down wall table, and it was perfect. So, we bought it.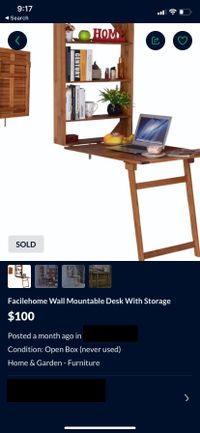 I picked it up the next day after my wife went to work. I immediately bought some cool tools, topped off my elbow grease, and began dadding the table up onto the wall.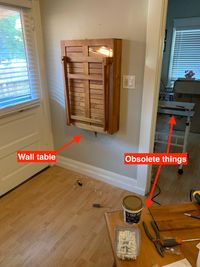 It was pretty easy to install. I had to convert some metric measurements to imperial, research drywall anchors, use my cool drill, apply spackle to a few mistakes, use my level (while saying dadly words like "yup" and "that's pretty level"), and buy a newer (cooler) tape measure. By evening, the wall table was on the wall.
My wife was so pleased. I texted the picture to our family group text and my dad even told me it looked good. The best part? Well, there's a few best parts. First, we can open our side door all the way. Second, we can easily sweep that region of our kitchen. Third, we can store a few things on the shelves in the table (talk about utility!). Also, I can get rid of my old desk and use this instead.
I highly recommend getting a wall table.